Here is the latest news on Nicholas' health. On Monday, July 14th, Nicholas was diagnosed with Stage 2 anaplastic large-cell lymphoma, a cancer of the lymphatic system.
I have archived some of the blog, so those of us on dial-up don't have to wait for long load times. Catch the greatest hits here:
Nicholas' Cancer Treatment Blog Archive
January

S
M
T
W
Th
F
Sa
1
2
3
4
5
6
7
8
9
10
11
12
13
14
15
16
17
18
19
20
21
22
23
24
25
26
27
28
29
30
31

December

S
M
T
W
Th
F
Sa
1
2
3
4
5
6
7
8
9
10
11
12
13
14
15
16
17
18
19
20
21
22
23
24
25
26
27
28
29
30
31

November

S
M
T
W
Th
F
Sa
1
2
3
4
5
6
7
8
9
10
11
12
13
14
15
16
17
18
19
20
21
22
23
24
25
26
27
28
29

October

S
M
T
W
Th
F
Sa
1
2
3
4
5
6
7
8
9
10
11
12
13
14
15
16
17
18
19
20
21
22
23
24
25
26
27
28
29
30
31

September

S
M
T
W
Th
F
Sa
1
2
3
4
5
6
7
8
9
10
11
12
13
14
15
16
17
18
19
20
21
22
23
24
25
26
27
28
29
30
---
Saturday, August 30th
Nicholas is a very brave kid. For the last few days, he has had to have a shot of nupegen before bedtime. He hates it, and is really scared of it. Every night, he asks, "Is it time for my nupegen shot?" and when we say yes, he starts to cry. But he marches upstairs to the bathroom and sits down for it. It makes me so proud to see that despite how scared he is, he faces it.

Nicholas has been complaining sometimes this week about vague pain. He has felt tired, or maybe nauseous. He complains that his waist hurts. He said that after his bone marrow aspiration, and he meant he was really sore from where they got the bone marrow. We aren't sure what exactly is going on, but he obviously is having periods of some kind of discomfort. It only happens once in a while, and most of the time he is like a normal kid, full of energy. But once in a while he doesn't feel good.

The chemo "medicine" is not good stuff. It really messes up your body. When the nurses put the medicine into his IV, they gear up with all sorts of protective stuff - gown, gloves, safety glasses, face mask, plastic face shield - the full deal. Pregnant women aren't supposed to be around people going through chemo treatments because just being near them could be bad! For some of the chemo meds, they have to administer "rescue" drugs, which counteract some of the more severe effects of the chemo. We hear from Kirsten about the problems her husband is having, six months after his chemo ended. Michael was diagnosed with lymphoma almost exactly a year before Nicholas. He is now experiencing strange skin rashes, occaisional fatigue, and night sweats. It's not definite that this is caused by the chemo, but I would guess that it is at least a contributing factor. The chemo messes with cell DNA, among other things. One of the things they warn you about when you sign release forms is that the medicine can, in rare cases, cause your cells to mutate into new cancer cells. The treatment can actually give you the disease. It is common and pretty successful method of treating cancer, but it is still an extreme solutuion for a dangerous disease.

As I am typing this, Nicholas' temperature is bouncing back and forth between 100.2 and 99.0. If it gets up to 101, we'll have to go back to the hospital. We really don't want to do that, so we've got Nicholas in the cool basement, watching TV or playing video games or napping. Anything to keep him sitting on the couch. We're making him drink lots of water. We really don't want to have to go back to the hospital. If we can make it through the next two days, his blood counts will be rising, and he probably won't have to go back in. We're keeping our fingers crossed.
---
Thursday, August 28th
Nicholas had his first follow up visit to his second round of chemo today. His blood counts are dropping, as expected, but are still in the normal range. We know from the last round of chemo that his blood counts will zero out by Saturday or Sunday, so we are going to be extremely cautious and stay close to home. Nicholas is still feeling great. He has a freakish amount of energy - thanks to the Prednisone. It would drive me around the bend if I didn't know that it stemmed from the steroids. I keep trying to convince myself that my normally mellow child will return someday. It is much better than having a desperately ill child around the house - so I'm not complaining. My favorite new joke is "I'm worried about Nicholas because he seems so lethargic." He literally is bouncing off the walls with energy - and driving everyone around him a little crazy. Grandma Margaret stayed with him today so that we could both work and she said the same.

The happy news is that yesterday Nicholas finished his doses of Prednisone and Zantac for this round. And, there is NO PREDNISONE in the next round. Thank the good Lord for that blessing. There also should be no Neupogen (the shots he takes each night). The next two rounds of chemo are less drugs, only Methotrexate and Cytrabine. The last two rounds were 5 drugs. However, the next two rounds are longer. 7 days in the hospital versus 5. That oughta be interesting with Mr. Energy. I can't imagine how many games of Mario Party I will lose in that 7 days. Nicholas is getting really good at Mario Party - with all my time spent playing I don't understand why I'm not improving. Ah well, another of life's mysteries.

Madeline is still in Spokane. She is having a great time. She has spent time with Grandpa Marlin and Grandma Cher, Maria and Paul, Z, J and Selene and with Martin and Cindy, Mason and Maggie. Each time I talk to her she sounds so happy. She can barely stand to stay on the phone with me - she wants to get back to whatever she is doing. Madeline's 4th birthday is on the 4th of September, so our Spokane family threw her a birthday party today. She had a wonderful time with a homemade Hello Kitty cake. Lark and I really, really miss her and yet we can't help but be grateful that she is having such a wonderful time with people who love her. It eases our load in Seattle to know that she is well taken care of and having fun. Madeline is coming back on Sunday with Grandpa Marlin. He will be staying for a few days. Nicholas and Lark are especially looking forward to his visit.

As I mentioned in my August 1st update, the Light the Night walk is coming up on September 20th in Seatle. It is a major fund-raiser for the Luekemia & Lymphoma society. I hope each of you reading this will consider walking with us, walking in your own local area, fund raising to find a cure or sending donations to support our team. My good friend Jeni Manion-Williams has registered a team for the Seattle walk on behalf of Nicholas. It will be called "Nick's Squad." If you want to register yourself to walk with our team, you can use this link. Once at the sight, you choose a location, then find Jeni's name on the list of team captains. If you have any questions about the walk you can e-mail me at our home e-mail address or e-mail Jeni at jeni_manion @ hotmail.com. Those of you that work at Regence, there will be a bake sale to raise money for our team on September 5th. If anyone would like to bake, let Tina or Jeni know. (That goes for anyone in Seattle that would like to bake...) If you work for a company like Nintendo that has a matching donations program, don't forget to get them involved too! Matching donations can add up fast. If you aren't in the Seattle area, the Light the Night website lists walks all over the country. If you can't walk with us or would like to send a donation, those can be sent to me. Please make the checks payable to the Leukemia and Lymphoma society.

Unfortunately, Nicholas will be in the hospital during the walk going through his 3rd round of chemo. I know he would love to come out and see the team that will be walking to support him. The fact that he can't be there to walk with us, underscores the real reason for the walk. The need to find a cure. Go to the website for the Leukemia and Lymphoma society and read the numbers. Each day people face the same challenges and heartache that we face. The only way to end that is to find a cure.

I'm off to bed. As always, I end the day thankful for Nicholas and family and good friends. And I pray for good health for each of us.
---
Monday, August 25th
A few of you have been kind enough to call or e-mail and remind us that we need to update the site. With the chemo round and inpatient hospital stay it is hard to stay on top of the website. So, I'm here at last to fill you in. I'll probably be long winded and emotional too, so bear with me. If you haven't guessed, it's Stephanie doing the update tonight.
Nicholas' second round of chemo started on Wednesday night. We were admitted at 8 p.m. They begin immediately hanging the IV chemo drugs as soon as we get admitted. Within 24 hours, 3 of the 5 chemo drugs are done being infused. It's quite amazing. In addition to the chemo drugs, Nicholas is regularly given "rescue" drugs - the drugs that counteract the chemo drugs or help mitigate side effects. The first night in the hospital is rough on Nicholas. He is tired, doesn't get to sleep until late and the nurses come in all night to do vitals and infuse drugs. At 4 a.m. he asked me if we could go to the playroom to play Mario Party 3 on the N64. I politely declined and made him go back to sleep. We were in the playroom by 7:30!
Our room during this round was a 4-bed room. There were 2 other occupants when we moved in. One was a boy about Nicholas' age with Luekemia that is awaiting a bone marrow transplant. I overheard his mother on the phone. (It's not really eavesdropping - if you saw the rooms you'd know that you can't help but overhear.) Anyway, she was telling whoever she was talking to that she was so grateful that her son had two potential bone marrow matches. They were both strangers to her family. She was hoping that if one turned out to be good match, they would be able to thank them one day. I sat there thinking that if everyone could overhear this conversation, they would run out and have themselves listed on the bone marrow registry. So, if you have ever considered it, go do it. And if you haven't considered becoming a registered bone marrow donor, think about it. It is an amazing gift to give a family.
Thursday turned out to be our most eventful day during our stay. If you are squeamish, skip this paragraph, and go on to the next. Nicholas woke up feeling nauseous. He had to have his intrathekal injection of chemo into his spine. He was nervous about that. They immediately gave him Benadryl to calm him and help with the nausea. One great thing about Children's is that they don't let your kids feel sick or in pain. They do things quickly to resolve pain and side effects. Anyway, his injection went fine (hooray for brief sedation), he ate lunch but by dinner time wasn't feeling so good. At the time he was supposed to take his Prednisone and his Zantac (for stomach pain caused by Prednisone), he said he thought he maybe needed to throw up. His nurse and I suspected that maybe he was just upset about having to take the Prednisone. So we proceeded. He took one sip of the Zantac and threw up. A lot! She gave him some medicine and he went to sleep. I had to wake him up about an hour and a half later to take his meds. He was really unhappy and started crying, saying that he was still feeling sick. Again, we were in a bind because we needed to get his meds in him. We suggested he have a few bites of applesauce to see if his stomach was settled. Nicholas didn't want anything to do with this. He got really angry and said he just wanted to get his Prednisone over with. So, we let him take the Prednisone with a spoonful of applesauce. He chased it with some water and skittles. He immediately began to feel like he was going to throw up. The thing is, Nicholas knows only too well that if you throw up your meds, you still have to take them later! So, he threw up into his hands, shoved it back into his mouth and re-swallowed it. No easy task. Over the next minute, he valiantly struggled to keep it down. Eventually his stomach calmed. Talk about desperate. His nurse and I were horrified!!! I changed Nicholas' clothes, gave him a brief clean-up, brushed his teeth and tucked him in. Then I charged out to the nurses station and announced NO MORE ORAL PREDNISONE. Call the attending physician and get him to re-write the Rx for IV prednisone. She was way ahead of me and had already made the call. Have I said before that Nicholas is an amazingly perceptive and brave kid. If I haven't - I say it again. He may be 5, but he knows the deal already. He can make the really hard choices when he has to. Sad, but true. I admire his courage and his get-it-done attitude. How many of us could do what he did? I nearly lost it just watching!
Friday and Saturday were much better days. We were able to leave the hospital at Noon on Sunday. We are now home and settled, waiting for his blood counts to drop and diligently trying to keep him healthy and out of the hospital. We are back to Nuepogen and oral Prednisone and a few other meds that he takes daily.
Our weekend at the hospital was made easier by visits from good friends and family. Janelle and Dave, Jacob and Mia, came from Spokane. (Nicholas really enjoyed his CD player and Veggie Tales CD on Friday night.) Bullet and Jolene, Daniel, Kellen and Evan also came from Spokane for the weekend. Nicholas enjoyed brief visits with them, but more importantly they provided much needed support and friendship for Madeline and Lark. They even managed to get Lark and Maddie away for a brief over-nighter at Hood Canal. My support crew, Rachel, Mark, Traci, Ben and Dad, helped me through the days and nights at Children's. So did my buddies from Regence - by dragging me out to lunch on Friday. It's good to occaisonally remember that life goes on outside that building. Saturday, Nicholas' cousins Emi and Isabel and Aunt Shannon came for a long visit. He conned them into a video game. I don't think they've ever played but they went along with it. And he was so happy.
Madeline went back to Spokane yesterday with Bullet and Jolene. The pre-school is closed this week for in-service. We had planned a family vacation, but alas, the best laid plans... we decided Madeline deserved a vacation and our family in Spokane has repeatedly offered to help with her. She will be enjoying a week with Grandpa Marlin and Grandma Cher, Maria and Paul and Martin and Cindy. We miss her adorable face and energetic ways already but know that she will be having a great time.
Today is Lark's birthday. We celebrated with my family, a great dinner, cake and presents. If you know Lark you know there are presents. Have I ever told you about his lists? Well, another story for another time. Originally Lark said that he didn't feel much like celebrating this year. Sad coming from Lark, who is eternally good natured and optimistic. I took charge, as I always do, and insisted that we needed to celebrate when and where we can. Our life can't only be about cancer. Of all of us, I probably have the hardest time remembering this. It is unbelievably consuming. It is nearly all I can think about. Yet, there are times, like tonight, that are great, in spite of the cancer. Watching Nicholas help Daddy blow out the candles. Watching Nicholas play Mario Party 4 with Ben, Lark and Rachel. Talking about Rachel and Mark's wedding and Ben and Traci's baby... Life most certainly goes on. And we are thankful, once again, for family and friends who help us remember about the rest of life.
We are thinking about all of you and praying for health and happiness for your families, as we are for ours.
---
Wednesday, August 20th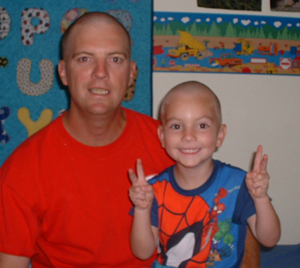 More friends getting the haircut of solidarity. The bald look is in for Bullet and his son Kellan, and just in time. Since Nick's hair fell out, he finally looks like a kid with cancer. He's starting to getting looks from people. It doesn't bother me, and he's oblivious. It's only natural people are curious. It's just something new and different that we're dealing with.
Nicholas went back into the hospital today for his latest round of chemo. He started off with a battery of tests and a CT scan. The doctors looked everything over and agreed that he's making the appropriate progress. The tumor that was his lump is undetectable on the CT scan. Nicholas is tolerating the chemo pretty well. He hasn't had any serious fevers. He's still eating well. Things right now are as good as can be expected, so we are very happy.
I was kind of a downer on Sunday. Sorry for that. I had a couple busy days at work that totally distracted me from reality and that helped me a lot. It's seems weird that my job could be such a pleasant diversion. I was dealing with the Blaster computer worm and a project for our department. I was jumping for a couple days. It was interesting and challenging and let me forget about stuff for a while, and now I'm all refreshed and ready to deal with this next chemo round. I just wanted to keep you all updated on me, because I know that's why you all come here. To read about how I'm dealing with this. :)
---
Tuesday, August 18th
As you can see by Lark's entry on Sunday, there are bad days in cancer land. Ironically, Sunday didn't affect me nearly as much as it did Lark. That's why Lark and I are such a good team. When he is having a hard day, I'm okay. And when I'm having a bad day, he's okay. Not that Sunday wasn't sobering - but I equated it to that feeling you have when you narrowly avoid a car accident. Your heart races for a second and then you realize you are okay - and you move on down the road. Sunday was one of those days where something bad could have happend, but it didn't. I'm thankful for that.
As you can see by the picture we are posting tonight, there are also happy times in cancer land. Rachel's close friend Trish recommended that we celebrate little things as we go along so that we have special times to share and remember. We decided tonight was the night to celebrate the end of our first full round of chemo. After all, we start round two tomorrow. So, we indulged Nicholas' craving for Subway and Slurpees. My Dad, Dad's best buddy, Tom, Rachel and Mark joined us for dinner. After dinner we set the kids up outside on the deck for a sleepover. Nicholas has been wanting to sleep outside since he heard that his friend Daniel got to do it a month ago. They look happy, don't they?
Yesterday, Nicholas, Rachel and I again took to the waters of the Greenlake wading pool. Nicholas' cousins Emily and Isabel and their Mom, Shannon, joined us. In the evening we enjoyed a visit from Poppy Ralph and Grandma Joyce. They brought some great activity books for Nicholas that will assist as we try to do some "schoolwork" this fall. They also brought an adorable stuffed elephant that was so soft Rachel tried to escape with it. Nicholas appropriately dubbed the elephant "Ellie." We also got a great package in the mail from Anchorage with a really cool, fur, Davy Crockett style cap and other goodies. Nicholas' bald head will be warm this winter for sure. Thanks to my godson, Sean, for his thoughtfulness.
We are ever grateful for the daily outpouring from all of you. And we are grateful for the smiles on our kid's faces today.
---
Sunday, August 17th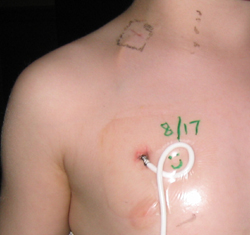 Here is a picture of Nicholas' line. It is covered by a protective clear plastic patch, kinda like a bandaid in that it is sticky. That keeps the area where the line goes into his chest sterile. There is a loop there so if the line gets tugged, it will pull the loop out of the patch first, instead of tugging the line out of his chest. We pulled the loop out one time at the hospital. I was picking Nicholas up to hold him, and his line was caught on his IV tree. He yelped right away, so I knew I had done something bad. Fortunately, it worked just like it's supposed to, and the looped pulled out, but the line didn't pull out of his chest. We have to change the plastic patch every week. Nicholas hates it. It is like pulling off an extra sticky, giant sized bandage. It pulls on his skin, and he doesn't like that. It also tugs on his line a lot during the process, which scares him quite a bit. In the picture, you can see a square with a red line on Nick's neck. The square is sticky bandage residue. The red line is the incision they made to manipulate the line into his aorta. Because the line goes right into his central blood vein, it has the potential to spread any infection rapidly. We have to take care that the protective patch is on right, that no air can get to the spot where the line goes into his chest, etc. When we change the patch, we have to be very careful and keep things very sterile. That spot is very vulnerable to infection, and that spot is a place from where an infection can spread very rapidly. I am giving you this primer on his Hickman line because it is pretty central to today's events.

Stephanie and I look at Nicholas' cancer very differently. Stephanie's mother died of cancer at the age of 40, and about 10 years ago, Stephanie had a close friend from high school also succumb to cancer. The worst-case scenario is very close to Steph, as she has seen it played out twice already. She knows that even if Nicholas' chemo is successful, the cancer can return. She knows for the next five years we will have regular CT scans, and that every fever Nicholas gets, every bloody nose, every bruise or lump or rash, is a cause to worry "is the cancer back?" The doctors say he is completely cured if he goes 5 years without seeing the cancer return. Until then, we will be living under a cloud.

To me, that is a long way off. Nicholas is responding to the treatment and there is a good chance he will make a full recovery. If he isn't completely cured, the turn downhill will be gradual, and I will worry about that when it happens. I'm optomistic. Stephanie knows that the worst can happen, she's seen it happen twice. So it weighs on me a lot less heavily than it does on Stephanie. But today, the crappy reality of this disease hit home for me kinda hard.

It's ironic that I haven't learned the lesson that bad things do happen. You'd think Nicholas' cancer would convince me. Some of the literature we've read gave a figure of 6000 cases of pediatric cancer a year in the US. Out of a country of 250 million people, that is an insignificant number. Cancer in a kid is so rare that almost all of the cases in the Northwest, from Montana to Washington, from Oregon to Alaska, are handled in a ward in the Seattle Children's Hospital with 60 beds. That's it. The odds we beat to have Nicholas get cancer are a lot longer than the odds we have now for chemo to be unsuccessful. That should be something I'd have come to understand by now.

It was a gorgeous sunny day here in Seattle. Nicholas' blood counts are good, so we decided to go to the park. We went to Carkeek park, which has a spectacular view of Puget Sound and the Olympic mountains, as well as a cool slide in the shape of a salmon. Nicholas really wanted to play some baseball. We brought his T-ball bat and ball. He had just started T-ball when we got the diagnosis, and had to quit after 2 practices. So it was fun for him to get out and practice his hitting and fielding. We played frisbee for a while, then he took batting practice for a while. Nicholas is a pretty good batter, and with the aluminum bat and standard baseball, he can make the ball go a good distance. Then he took some grounders. On one, he dove sideways to stop the ball and blocked it with his stomache. He said, "See Dad, it's lucky my lines blocked that ball," - meaning his Hickman lines. He has two plastic tubes coming out of his chest for administering medicine and drawing blood. I laughed to myself and thought it was so great that he could lead a pretty close to normal life, despite the treatment paraphenalia that is a part of him. We took a few more grounders and then some more batting practice. Then Stephanie, ever vigilant, said, "Is it my imagination, or have his lines gotten longer?" The ends were sticking out from the bottom of his shirt.

Well, we took a look, and the plastic patch keeping his lines in place had come completely off. When I saw the protective patch had come off, I instantly thought of a few very bad things that could happen. We were so lucky we weren't on the way to the emergency room. If the line had pulled out of his chest, he would have been bleeding uncontrollably from the spot where his line had pulled out of his chest. I was suddenly very worrried about infection, as he got dirt and sweat and grass all over his line. We had to stop playing baseball in the park and run home and sterilize his chest and re-apply his patch.

It seems every time we try to let him do normal kid things, every time we try to get him out of the house to play and have fun, something bad happens. When we took him to see the Blue Angels, he got a fever. When we went to the park, his line gets undone. Every day there is a long regimen of medication and maintainence that must be followed, much of it painful or at least unpleasant. It is a fabulous Seattle summer, with tons of hot sunny days. And Nicholas is stuck in the basemant playing video games and playing with the occaisional friend who comes over every few days. It sucks that he has to put up with this, that he can't have a normal life, that he can't have fun like everyother kid in the world. Even when you put the potential bad future stuff out of your mind, you still run into the reality that every day has it's own dangers.

I'm sorry this is such a downer entry, but today was really rough. I went from being so happy that things could be almost normal to being slapped in the face by reality, reminding me that this is serious, that there is a long row to hoe, that things may never be back to normal.
---
Saturday, August 16th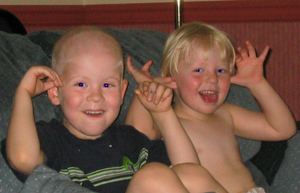 So here are the pictures Stephanie promised. Nicholas' cousins Mason and Maggie came to visit from Spokane. The boys spent a lot of time playing video games. They played Mario Party, Zelda Godzilla, and lots of MAME stuff like classic Teenage Mutant Ninja Turtles, and a bizarre game, Ninja Baseball Batman, which looks like the game designers went to a baseball game while high on acid to get inspiration. Nick and Mason also spent some time at the park playing catch.

Nicholas' hair is almost gone. It changed texture dramatically, into something resembling duck down or peach fuzz. What's left is very fine, light and soft. But from any sort of distance, the boy looks completely bald, which he pretty much is. He doesn't seem to notice. Thankfully, 5 year old boys don't care about their hair.
---
Thursday, August 14th
Lark and I both tried working again today. Lark's Mom, Margaret, stayed with Nicholas so that we could work. Although both Regence and Nintendo have been supportive and accomodating, we need to work while Nicholas is feeling well so that we have paid time off for when he is not feeling well. Lark has been able to work quite a bit more than I have, mostly due to my need to be home with my little man.

Nicholas and Madeline love spending time with Grandma and Grandpa. Usually we are able to go out to their house on Vashon Island or to Hood Canal, but we are trying to keep Nicholas a little closer to home to prevent another fever, and to be near the hospital should any problems arise. Today Nicholas even got Grandma to play Nintendo with him! How can anyone resist his little going-bald head?

Lark and I took advantage of Grandma and Grandpa and went out to dinner. Together. Without kids. To someplace other than McDonalds or Red Robin. Knowing that Nicholas starts chemo next week, we seized the day! We had a nice, peaceful dinner at one of our favorite restaurants.

We are looking forward to a trip to the zoo tomorrow. I'm even relenting and letting Madeline stay home from pre-school. She has been so patient in trying to understand my logic that I figure she deserves a reward. Besides, we love the zoo. We are going early hoping to avoid the heat - and meeting my cousin Nancy and her kids Ben and Hannah. We are also looking forward to Martin, Cindy, Mason and Maggie coming for a visit from Spokane. Mason is Nicholas' video game mentor! He figures he will get unlimited access to his games while Mason is here. Maddie and Maggie have a great time together as well, so it should be good time for all.

I will try to have Lark post pictures of the kids tomorrow. Nicholas is looking pretty cute these days even without hair.
---
Wednesday, August 13th
It's Stephanie again. We will try not to go so long without updating our site. It's gratifying to know that so many people are keeping up with Nicholas and how he is doing.

As Lark said yesterday, Nicholas is doing as well as can be expected at this point. He feels good, eats well and has the energy of a healthy 5 year old. The heat bothers him. Normaly, in Seattle, this would not be an issue. However, we have had incredible weather this year. Beautiful, hot days with nary a raindrop in sight. It would be the summer of my dreams - if I weren't in my basement playing Mario Party and worrying about Nicholas. September will hopefully be a bit cooler so that we can spend some time at our favorite parks.

Nicholas has started asking lots of questions about his upcoming round of chemotherapy and his future in general. He asked Ben if he would still have cancer next summer or if he could go to camp next year. He wants reassurances that he won't have to have any pokes in the hospital this time. He keeps reminding me that we weren't assertive enough at his last round and he ended up having a poke to draw blood. Rest assured, I won't let that happen again. He'd never forgive us! He knows that this round of chemo includes an intrathecal injection of chemo drugs (meaning an injection into his spinal fluid). This is done under sedation. He is not so concerned about the injection, more about the room it is done in. The room is scary to him. He wants us to come up with a way to make it less so. I'm working on that. Also, he wants an exact date that the next Neupogen shots start. He keeps us on our toes, that's for sure. In some ways it is a relief that he is old enough to understand on a basic level what is going on so that we can talk to him about it and relieve his fears.

One of our daily chores is flushing Nicholas' hickman lines. Nicholas has gotten to the point that he can practically do this himself. I fill the syringes with Heparin and he does the rest. Cleans the caps, attaches the syringe, unlocks the line, injects the Heparin and re-locks the line. He continues to amaze me.

A lot of you have been asking about Madeline and how she's doing, so I thought I'd give a brief update on how she is doing as well. My family jokes that Madeline is in charge at our house. Those of you who know me well, know that I consider myself to be in charge at our house. I tolerate my family's teasing - knowing that my Aunt Mary said I was in charge at 4 too. More power to Madeline, I say. Anyway, this situation has not been easy on her. She adores Nicholas and up until recently, spent all of her time with him. Initially, she told us she was worried about him because she didn't know what was happening at the hospital. That seems to have subsided with her being able to go to the hospital a few times. She wants to be involved in everything that happens with him. When he takes medicine she wants to help (and have Skittles too!). She wants to be there when we flush his lines, take his temperature, change his bandages, etc. Nicholas hates this! Which really hurts her feelings. We are trying to work through that issue with both of them. She is also very angry that he does not have to go to school each day and she does. Despite that fact that I am home a lot of days, we have decided that she needs to go to school every day. She needs the structure and routine. Otherwise, some weeks she would be home and other weeks, when we are in the hospital, she would have to go to school. Those of you out there who are parents know how important routine is to kids. It's one of the ways they are reassured that things are okay. So, she goes to school and he stays home. The thing is, Madeline loves school. King's Pre-school is the greatest. We couldn't be happier there. It is especially important, while Nicholas is going through this, that I know that Madeline is being well taken of by people who love her. It's just getting her to understand why she has to go that is a challenge. I am working on that too. In the meantime, she is very needy when she is home and she spends a lot of her time testing our patience to the limit. The special attention she has been getting from many of you has really helped. She will be fine through this, I know that, unfortunately, she is just young enough that she can't really understand what is going on.

As I'm sure you can imagine, even though Nicholas is doing well, some of the days and nights are long. I am guilty of thinking too much about what the future might hold. When that happens, I try to do what Dr. Phil and Oprah and that crew recommend. I try to count my blessings. So, for today, here are a few of the people and things that I'm thankful for. In no particular order...
Nicholas - always Nicholas. Lark and Madeline.
Rachel, Traci, Ben and Dad. For anticipating my every need, before I know I need it. And for seeing me through long days and nights.
Kirsten - for leading the way. She has grace and strength that I can only hope for.
My Regence family - Tina, Linda, Brian, Jan, Kimberly, Matthew, Dwight - and all the others, you have personally supported me in so many ways. Not to mention the unbelievable outpouring of cards and gifts for Nicholas. My days in the hospital and here at home would be so much longer without you.
The King's Family - we could never have imagined how important your support would be for Madeline and Nicholas. We appreciate the unending prayers and continuous offers of support and help.
Nancy - for keeping me company and providing entertainment for Nicholas. And for Aunt Cheryl, bringing more games, just in the nick of time.
For the guys at Nintendo - for making Nicholas actually look forward to chemo so the he can get another new video game.
Margaret and Frosty - for making Madeline a priority and for offering to do whatever we need.
Our Spokane family, including BUllet, Jolene, Janelle, and Dave, for finding ways,long distance, to reach out to us. Particularly those of you that are taking the extra time to support Lark. He needs you - even if he won't say it.
The people who make Skittles, Hershey's syrup and Starburst. What would we do without them?
There are so many others, I could go on and on. Over the next few months I will try to find a way to thank you all. Both here and in person. In the meantime, keep us in your prayers. Our journey has just begun. We will need all of you along the way. And we will continue to give thanks for you.
---
Tuesday, August 12th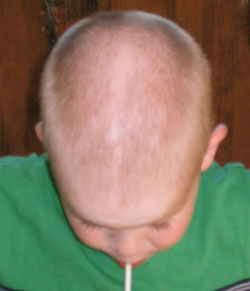 Well, two weeks after everyone shaved his head, Nicholas' hair is starting to fall out. It's kind of hard to see in this picture, but it is making a curious little stripe pattern down the middle of his skull. After his bath, the tub was full of hairs.It should be all gone in a couple of days, and won't come back till around Christmas, probably, if all goes according to schedule. The schedule of chemo treatment is kind of mapped out, but it isn't etched in stone. It depends on how his body reacts.

Other than that, things are still going well. Nick still feels great, and he is becoming quite a master of Mario Party 4 for the GameCube. He's also becoming a master of the Uno card game, Monopoly Jr., and a bunch of other games. Nicholas' friend Daniel will be coming over tomorrow for a play date to help relieve the boredom. You can only play with Mom for so long, you know? Not that Mom isn't fun. Stephanie has been great staying home with Nicholas. It's something she's wanted to do for a while, and it's too bad it took this disease to make it happen. But Nicholas misses his friends and he gets a bit antsy spending so much time at home.
---
Monday, August 11th
Hello, sorry it's been so long since my last update. I had no idea how many people were reading this stuff, but I've been getting comments about it not being updated from all over. The reason I haven't updated in so long is because not much is going on. Nick came home from the hospital on Tuesday morning, and we've actually had a pretty normal week. When we let the hospital, Nicholas' blood counts were back to normal. That means no more shots. We still have a bunch of stuff to do every day, medication-wise. Nick gets pills, bandage changes, line flushes, mouth washes, temperature checks, and more. Mostly it's done in the morning and right before bed.

Aside from that, he's leading a pretty normal life. He doesn't feel sick. He has lots of energy. He has to avoid crowds and sick people, but he can do stuff. He has friends over and goes to the park once in a while. He can eat just about anything he wants. He has been playing lots of games, drawing lots of pictures watching lots of tv. He gets a little stir crazy being cooped up in the house all day, but once in a while, Nicholas gets to go out somewhere. He's been to the park, to his uncle Ben's house, and even to miniature golf. It's hard to believe he has cancer sometimes. We are treasuring this time. It's going to end for a while on August 20th, when he goes back to the hospital for his next chemo round, so we appreciate these good times while they last.

The support we have been getting from friends and family has been great. I know we've mentioned it before, but I can't say enough about the love we are getting from everyone. Every day Nicholas gets a card or two in the mail. The parents at Nick and Maddie's daycare have cooked us some dinners. Dave, who works at Regence, and his wife Maggie, came over and cleaned our house this weekend. It is amazing to us, and it helps us immensely. We can focus on getting Nicholas healthy, and spend quality time with him when he is feeling well.
---
Tuesday, August 5th
This is Lark, back again. Nicholas had an eventful last few days, so I'm sorry I haven't gotten this updated for so long. I'll catch you up here. On Sunday, Nicholas really wanted to get out of the house. He seems so healthy and full of energy that it is hard to believe he has cancer sometimes. For the last few weeks he has been confined to a hospital bed or our house most of the time. On Saturday we found out his blood counts were very low, but he really wanted to go see the Blue Angels. Some friends of Rachel live just South of the Seafair stuff on Lake Washington, so we went there to watch the Blue Angels. We went there to keep Nicholas away from crowds where he might catch a cold. We had to climb up on the roof of the house to see the air show. It was kinda fun, having a picnic on the roof. But both Nicholas and Madeline were pretty afraid of the height, and so the sat by the chimney for most of the show.

Afterwards, we went out to my mom's house on Vashon Island. The kids got to visit and I got to bring back my MAME arcade machine. Nicholas stayed in the car for the ferry ride, also to avoid crowds and stay healthy. I think he was very happy to get out of the house for the day.

One of the ferry boats on the Vashon Island run was broken. That, coupled with an Earth Fair on the Island that day, made for a two hour wait in the ferry line to go home. While we were stuck in line, idling away the time, Stephanie noticed Nicholas felt warm. By the time we got home, he had a fever of 101, which is the threshold at which we are supposed to call the hospital. They had us come in right away. Nicholas and Stephanie spent the night in the hospital. They didn't get to sleep till almost 2am, what with all the checking in and testing and examining and finding of a room, etc, etc. Nicholas was not happy to be back in the hospital.

Stephanie and I were racked with guilt. Did we try to do too much? Should we have stayed at home? The doctor told us that this would probably happen, so I try not to blame myself, but it is hard. In hindsight, maybe we should have stayed home. But he was going stir crazy and needed to get out of the house. We went to great lengths to avoid crowds and minimize potential exposure to germs. I could second guess this forever, but the bottom line is he's back in the hospital for a few days, and that was kind of to be expected no matter what we did.

They monitored Nick on Monday, giving him antibiotics and testing his blood. He played a lot of Mario Party 3 on the play room Nintendo 64, beating both his mother and his Uncle Ben. Giving him the Neuprogen (GCSF) shot was an ordeal. We didn't have much of our gear at the hospital for the ritual. Nicholas has an elaborate system for doing things he hates, and the poke is no exception. He got very upset when we had to substitute a patch of gauze for the cotton ball he normally uses at home.

Nicholas hasn't had a fever since Monday night, and if he continues to avoid high temperatures, he should be able to come home Tuesday.
---
Friday, August 1st
(This is Stephanie, pinch-hitting for Lark tonight, because I can't stand not being able to have my say every now and then.)

In Lymphoma/Chemotherapy land this is day 8. The 8th day since Nicholas began his first full round of chemotherapy. The doctors and nurses delineate the weeks so that they can explain what to expect each week. Our first week was relatively easy. Nicholas said it best in the hospital when he said "You mean all I have to do is lay around and get medicine and play games and stuff. No scary tests or pokes?" Despite all the chemo drugs and the medicines we had to bring home to administer, Nicholas has been feeling remarkably well and has had bundles of energy. I savor each day that he feels well and acts like a very normal 5 year old. Rachel, Traci and I routinely comment that he seems so healthy. As I have commented to some of you that have called, I feel like I'm living in surreal land. Nicholas appears so healthy and energetic, and yet not an hour goes by that I don't feel it straight to the heart that my baby has cancer.

Yesterday was Nicholas' first doctors appointment post-chemo. We will go in every two or three days now until his counts are back in the normal range. As of yesterday, his counts were still in the normal range, although on the low side of normal. They told us to expect his counts to drop rapidly over the next few days. Also, to anticipate a hospital stay. Most kids end up inpatient between rounds of chemo due to fevers and infections. I am doing everything in my power to prevent this, including washing out his mouth 8 times a day, and filling him with healthy foods and lots of water. (Thanks, Dr. Wolberg, for the list of quality foods.) Currently Nicholas is much more interested in salt than sugar (Pringles and popcorn) and lots of milk. He is back to whole milk, like when he was a toddler, to boost his calories. I'm sure this full fat diet of his will have a negative impact on my weight loss goals! Most nights this week Nicholas has told me what to cook for dinner. After hospital food, he has a definite opinion about what he wants to eat.

After yesterday's doctors appointment, Nicholas went canoeing with Lark and Uncle Ben. Ben has mini-PE camps during the summer for some of his students at St. Anne's. Prior to Nicholas' diagnosis, he was going to attend camp for a week. Ben takes the kids on a whole variety of physical activities. No wonder everyone thinks Ben is the greatest PE teacher ever. Who wouldn't want to spend a week hiking, swimming, canoeing, golfing, rock-climbing, etc. Anyway, Nicholas got to canoe on Lake Washington with Ben's group, including Aunt Traci, Dave and Tony. They saw turtles, dragonflies and Blue Heron. They also got to see a practice run of the Blue Angels flying low over Lake Washington. The Blue Angels are in town for Seafair, Seattle's big summer festival.

Thursday afternoon, I took a break and went to the Mariner's game with Brian - a friend from work - and Rachel and Mark (Rachel's fiance'). It was a perfect day for a game, I had great company (thanks to the greatest Royals fan there ever was!) and the Mariners won. (Thanks Dad - for the tickets.)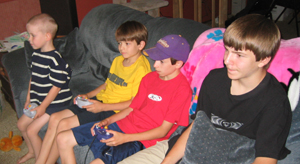 Last night, my boss, Karen, visited with her 3 boys, Kolton, Colin and Trenton. They came overloaded with gifts for Nicholas and Madeline. Karen obviously hasn't been keeping up with our updates, or she wouldn't have overdone it so much! She even showered Madeline with gifts. Either she wanted to make Madeline feel really special too - or she just loves getting the opportunity to shop for a girl! The 4 boys played a rousing game of Mario Party 4 - which Karen's boy graciously arranged for Nicholas to win. The evening ended with setting up a really cool Hot Wheels track. Nicholas had a great time and it kept him from focusing on his Neupogen shot. Thanks guys. You were great!
Today was a bit more mellow. Nicholas slept late and woke up with a headache and stomach ache. We laid low until after the Price is Right. (Love that show!) He was so relieved to have no meds this morning. Just the flushing of his Hickman lines. We spent the afternoon with Traci and Rachel. Somehow Nicholas conned the 3 of us into playing Mario Party 4. Clever 5 year old, huh? Our day ended with the Neupogen shot. Not a fun time to be at our house. Nicholas gets so nervous that he starts crying about a half hour prior to the shot, when we put the Emla (numbing) cream on. (One step ahead of you on that one Kirst.) Nicholas has a routine around everything. For example, Predisone is taken with a spoonful of chocolate syrup, juice and ice water within arms reach, Starburst unwrapped on the counter ready to be eaten and, preferably, Mom AND Dad nearby. The Neupogen is no different. He has to have his blanket, be on my lap, Madeline CANNOT watch, the band-aid has to be ready and Lark has to show him the needle and count to three before he does THE POKE. Meantime, I am reminding him to take deep breaths so he doesn't hyper-ventilate. See what I mean about fun? So, tonight he is taking deep breaths and Lark is asking him about Mario Party 4 and gives the shot - and, voila, no crying. Just a defiant "that didn't hurt!" Later Nicholas confessed it did hurt but he was right in the middle of a breath and I was talking, so he couldn't cry. What an amazing and brave kid! I am in awe of the resiliency of children. One minute you are inflicting on them the worst imaginable thing and the next they are babbling on about Scooby Doo.
Lark and I continue to be awed and humbled by the constant stream of cards and gifts that are coming our way. We can't tell you how much it means to us and the strength it gives us. I wish I could thank all of you here for the things that you've done and the ways you've remembered us, but there simply isn't room.
A lot of you have asked what you can do, and I've thought of some things you can do that would be both helpful to us and others. First of all, many of you have wondered if it is okay to call or if we are being bombarded. Yes and No. Yes, you can call and no we are not being bombarded. If we can't answer the phone, we won't. We appreciate the messages and warm thoughts. We can't return all the calls we are getting, but we love getting them just the same. Also, we enjoy your e-mails. I never checked e-mail much, but now I'm checking it twice a day. Again, we can't always respond, but we love to hear from you. Nicholas gets a kick out of the cards that everyone is sending. We are keeping them in a basket and he looks through them often, asking me to read them to him.
In September, the Leukemia/Lymphoma Society has a fund-raising walk, called the Light the Night walk. The funds benefit Leukemia and Lymphoma research. Rachel, Lark, Nicholas, Madeline and I did the walk last year in support of our good friend, Michael Wolberg, who was fighting Lymphoma at this time last year and is currently in remission. We didn't know then that we would be asking you this year to walk in support of Nicholas. I have a friend here in Seattle that will be organizing a team - not sure if I can out her yet - so we will soon be including details of how you can help, not just Nicholas but others who are facing or will face this disease. If you don't live in Seattle, maybe you could walk in your hometown - or even organize a group there. Fundraise too! For those of you who just did the Relay for Life with me - you know I love you! - this walk is a simple stroll around Greenlake. Not a 24 hour marathon. (Yes, KK, you can come drunk if you want!)
Since I am the "emotional" one of us, I want to end with a brief reflection on my part. To say that this diagnosis and experience so far has changed our lives is an understatement of epic proportions. Lark heard a woman on the radio talk about how a cancer diagnosis (or any other life altering crisis) although bad, has the power to bring good because of the way it touches people. Lark and I have already seen the circle around us widen and strengthen. I hope each of you allows what has happened to us change your life. Slow down, savor your children, your spouse, your friends. Enjoy the little things. Change the world you live in by reaching out, in whatever way you can. As sad as I am some days, I also feel blessed. And that is thanks to you.
---
Hospital Info
When in the hospital, Nicholas is at Children's Hospital in the Seattle Cancer Care Alliance ward. This is on the 3rd floor right next to the Train elevators. Check the latest update of this page, or give us a call, to see if we are at home or in the hospital.
You can call the ward at (206) 987-2032 and ask for Nicholas' room to get in touch with us when we are there. Phone calls have to go to the ward, as cell phones are not allowed there.
Visiting hours are 8:00am to 8:30pm
If you want to visit, make sure you don't have a cold, even a minor one. Most kids on the ward have severely depressed immune systems, and catching a cold could be deadly. They won't let you in if you have a runny nose or scratchy throat. Also, no flowers or latex baloons are allowed on the ward.
Also, you can email us at mhawk @ gowebway.com If you phone us at home and we are not in, leave a message. We usually check them every day, even when Nicholas is in the hospital.