Here is the latest news on Nicholas' health. On Monday, July 14th, Nicholas was diagnosed with Stage 2 anaplastic large-cell lymphoma, a cancer of the lymphatic system.
I have archived some of the blog, so those of us on dial-up don't have to wait for long load times. Catch the greatest hits here:
Nicholas' Cancer Treatment Blog Archive
January

S
M
T
W
Th
F
Sa
1
2
3
4
5
6
7
8
9
10
11
12
13
14
15
16
17
18
19
20
21
22
23
24
25
26
27
28
29
30
31

December

S
M
T
W
Th
F
Sa
1
2
3
4
5
6
7
8
9
10
11
12
13
14
15
16
17
18
19
20
21
22
23
24
25
26
27
28
29
30
31

November

S
M
T
W
Th
F
Sa
1
2
3
4
5
6
7
8
9
10
11
12
13
14
15
16
17
18
19
20
21
22
23
24
25
26
27
28
29

October

S
M
T
W
Th
F
Sa
1
2
3
4
5
6
7
8
9
10
11
12
13
14
15
16
17
18
19
20
21
22
23
24
25
26
27
28
29
30
31

September

S
M
T
W
Th
F
Sa
1
2
3
4
5
6
7
8
9
10
11
12
13
14
15
16
17
18
19
20
21
22
23
24
25
26
27
28
29
30
---
Tuesday, January 20th
Nicholas is back to school. He was pretty nervous in the morning when we dropped him off. He was very quiet, and wouldn't stop holding my hand as the class lined up outside and went into the classroom. I was probably more scared than he was when it was time for me to leave. He went for the whole day, not a half day, and he had a great time. He was very excited when he got home, talking about all the kids with whom he made friends. He even had some homework. The kids were all curious about his bald head, but Ms. Prepotente (pree-pa-tent-tay, ain't that a mouthful for 6-year-olds) had talked to the class last week about Nicholas illness. It gave them something to talk about, break the ice, or whatever kindergarteners do.

We found out today that Nicholas' line will be removed on the 29th, a week from Thursday. Nicholas is happy to be free of the thing, but he is very nervous about the procedure. He doesn't like to talk about it. He really hates these kind of procedures. Still, he can't wait to go swimming or go in Ben and Traci's hot tub.

In other news, Roger is home with us. He is recovering from his surgery pretty quickly, and gets around the house with no problems. He has daily radiation treatments at the hospital, but they only take about a half hour. They will last for about a month. Also, there is a meeting with the doctor coming up on Thursday. They'll go over the chemotherapy plan then, if I understand everything correctly (Stephanie has pointed out that I can get the details wrong here. I really should clear this stuff with her before I post it.) Anyway, he is feeling pretty peppy, from what I can see. The kids love having him around, too.

Karen is still at Harborview hospital. Because of the holiday weekend, they haven't been doing much but waiting and running scans. Today things seemed to finally get going. She had surgery in Bellingham last week, and it looks like they might have to do that surgery over again here in Seattle. She is in a lot of pain, so Marty hopes that they will do that in the next day or so. In the meantime, he is staying in Rogers apartment when he is not at the hospital.

That's the news, most of it good for a change. We are all thankful Nicholas is healthy again and his life is getting back to normal, and we are all praying for Karen and Roger.
---
Saturday, January 17th
Sorry for the lack of updates, but the last couple weeks have been pretty crazy. I don't know whether to share the good news or the bad news first. I guess I'll go with the bad news and end on a positive note. Stephanie's dad, Roger, is much sicker than we had hoped. It is confirmed that he does have cancer, and it has spread quite a bit. He has already started radiation therapy and will be starting chemo once he recovers from his surgery. Right now, he is pretty impacted from his surgery. Walking, etc, is difficult. It will be a few weeks before he is back to normal. He is still in the hospital, but will be getting out in the next day or two. When he does, he will be moving in with us. He will be staying in Nicholas' room. Nick has moved in with Madeline. Right now, we don't know for how long this arrangement will be. It may be just until he has recovered from surgery and is getting around well. It may be longer, while he goes through chemo. This and many other details are up in the air.

In other bad news, Stephanie's brother Marty is doing the waiting room thing for a different reason. His wife Karen is in the hospital. She has been having some problems that stem from a car accident she had almost 20 years ago. While still a high school student, she was riding in a car that was hit by a drunk driver. The injuries she sustained back then have recently begun afflicting her again, and she was moved from a hospital in Bellingham to one here in Seattle today.

Obviously there is a lot going on, we are very worried and concerned about our loved ones. I'm a little too overwhelmed to provide a lot of detail yet. It was a few weeks after Nicholas was diagnosed before I was able to digest what was going on and put it up in this blog. It will probably take a little while longer before I can get out the whole story on Roger's and Karen's situations. Also, I feel less comfortable going into the specifics of their medical problems without talking to them first. It's not the same as sharing your son's story as it is with less immidiate family. So, that's why I've kept this part short.

In sharp contrast to that depressing news, We got word yesterday that Nicholas' final bone and CT scans are negative. Nicholas is cancer-free and in remission. Let me say that again:
Nicholas is cancer-free and in remission!!
It is truly happy news. Stephanie and I were both on the verge of tears when the doctor gave us the news. Nicholas didn't want to put down his GameBoy while we took turns hugging him. He's been through so much these last six months, and it's great to be done with the worst of it.
His last scan was on Thursday, and he was a real trooper. He has to lie perfectly still for 10 or 20 minutes at a time, depending on what scan they are performing. Most kids Nicholas' age are sedated for the procedure, as they fidget too much to get good pictures. But Nicholas hates to be sedated. It is frightening to him, so we do it while he is awake. As he lay on the table, while this big machine rotated slowly around him, I thought how proud I was of him for holding so still. Then I thought that I should be proud of him because he is learning to read, or because he is good at soccer, or something, anything besides how still he can be for his bone scan. With the good results, I think I can finally start doing that.
Nicholas will start school on Tuesday. He met with his teacher and toured his classroom last week. He was very excited about it. We were meeting with his teacher before school in the morning, and on the day, Nicholas came into our bedroom to wake us up. He had gotten dressed by himself and told us he was ready to go.
Nick will have his line taken out sometime in the next two weeks, we are waiting on scheduling for that. He will have monthly appointments with blood tests and another bone and CT scan in three months. After that, I think we slow down to blood tests every other month, and then gradually lessening until the 5 year mark, at which point he is considered cured.
We talked again with the Make a Wish people, and Nicholas wished for a trip to Disneyworld for him and his family. We will be going sometime in mid-February, for 7 days and 6 nights. It is a really special treat for a little boy who has been through so much in the last year, and for our family as well. We are looking forward to getting away and having some fun.
I guess now would be a good time to again thank everyone for their love and support, for their good thoughts and prayers. We wouldn't have made it through this without you. Thank you.
---
Thursday, January 8th
Holy crud, could we catch a break please? Just when we were seeing the light at the end of the tunnel with Nicholas' treatment, we are back in the hospital with another dear family member. Stephanie's dad, Roger, went in for a doctor's appointment yesterday, but he ended up in the emergency room. The diagnosis has gone from possible bleeding in the GI tract (he required a blood transfusion) to large polyps in the colon, to probably colon cancer. The kids are at Grandma Margaret's house and Stephanie has spent most of the last two days at Northwest Hospital with her dad. As I was walking down the hospital hall bringing dinner, I got very angry. I have spent too many nights eating fast food in a hospital room. We deserve a break from this. Roger should not be sick.

They are operating on Roger tomorrow, and will remove most of his colon. They will biopsy all the suspicious stuff, and we will know more next week on Wednesday or Thursday. Roger will be hospitalized until at least then recovering from his surgery. Right now we don't even know if it really is cancer, though one of the polyps is very large and looks very suspicious. We don't know how much it has spread. We don't know what course of treatment will be required. So, as we have found out so often in the past 6 months, the doctors won't commit to anything until the tests are back (and even then, they won't really give difinitive answers). We don't know how worried to be, so we are sometimes not worried and sometimes really worried, depending on our blood sugar levels and horoscopes.

Roger has been a huge help to us during Nicholas' treatment. He lives only a couple blocks from our house and has been there to pick up Madeline or make dinner or do whatever we needed when Nicholas was in the hospital. Our thoughts and prayers are with him right now.
---
Tuesday, January 6th
Well, it has been quite some time since I last updated, and I have good excuses. In the last 2 weeks, we have had 3 major and 4 minor parties either at our house or that Stephanie has been responsible for. These were parties that revolved around the holidays or Stephanie's sister's wedding. It was a ton of fun, but it is only now, two days after the last guests have left our home, that we are starting to recover.

Nicholas is doing fine. I guess I should mention him, since this page is ostensibly about him and not about the fabulous New Year's Eve party that Stephanie put together. Our holidays got so busy that we pushed his final scans back to January 15th. That was the earliest time they could get us that wasn't in between Christmas and Rachel's wedding. So, a week after the scans we will meet with the doctors, and if they have nothing but good news for us, then we will schedule an operation to take out Nicholas' line. So, if all goes well, he should be in school and back to a normal life around the end of January.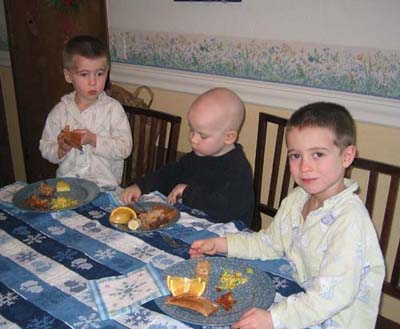 Nicholas had a great time over the holidays. Santa brought him the Ninja Turtle Sewer Playset, and Mom and Dad got him the Extreme Ninja Turtles action figures. Maddy got a playpen and swingy chair for her baby dolls. I think the best thing about the holidays for both kids, however, was that their cousins came to visit. We had little kids staying with us for most of the holidays, with the New Year's Eve party being the exception. All the cousins had a great time playing together. It was non-stop action.
Nicholas was the ring-bearer in Rachel's wedding. It was a big responsibility, and he pulled it off quite well. He looked great in a black tuxedo with his pale white bald head. I'd put up some pictures, but during the drunken bacchanalia that was our New Year's Eve party, I misplaced our digital camera. I will have to wait until we get our film camera's pictures developed to put them up. Anyway, Nick pulled off the job great.
---
Hospital Info
When in the hospital, Nicholas is at Children's Hospital in the Seattle Cancer Care Alliance ward. This is on the 3rd floor right next to the Train elevators. Check the latest update of this page, or give us a call, to see if we are at home or in the hospital.
You can call the ward at (206) 987-2032 and ask for Nicholas' room to get in touch with us when we are there. Phone calls have to go to the ward, as cell phones are not allowed there.
Visiting hours are 8:00am to 8:30pm
If you want to visit, make sure you don't have a cold, even a minor one. Most kids on the ward have severely depressed immune systems, and catching a cold could be deadly. They won't let you in if you have a runny nose or scratchy throat. Also, no flowers or latex baloons are allowed on the ward.
Also, you can email us at mhawk @ gowebway.com If you phone us at home and we are not in, leave a message. We usually check them every day, even when Nicholas is in the hospital.