Here is the latest news on Nicholas' health. On Monday, July 14th, Nicholas was diagnosed with Stage 2 anaplastic large-cell lymphoma, a cancer of the lymphatic system.
I have archived some of the blog, so those of us on dial-up don't have to wait for long load times. Catch the greatest hits here:
Nicholas' Cancer Treatment Blog Archive
January

S
M
T
W
Th
F
Sa
1
2
3
4
5
6
7
8
9
10
11
12
13
14
15
16
17
18
19
20
21
22
23
24
25
26
27
28
29
30
31

December

S
M
T
W
Th
F
Sa
1
2
3
4
5
6
7
8
9
10
11
12
13
14
15
16
17
18
19
20
21
22
23
24
25
26
27
28
29
30
31

November

S
M
T
W
Th
F
Sa
1
2
3
4
5
6
7
8
9
10
11
12
13
14
15
16
17
18
19
20
21
22
23
24
25
26
27
28
29

October

S
M
T
W
Th
F
Sa
1
2
3
4
5
6
7
8
9
10
11
12
13
14
15
16
17
18
19
20
21
22
23
24
25
26
27
28
29
30
31

September

S
M
T
W
Th
F
Sa
1
2
3
4
5
6
7
8
9
10
11
12
13
14
15
16
17
18
19
20
21
22
23
24
25
26
27
28
29
30
---
Wednesday, July 30th
Nicholas is getting spoiled. But I guess if you can't get spoiled when you're going through chemo, when can you? We had two really fun days. First, I stayed home from work to play with him. We went to Nintendo to spend the first of three company store gift certificates that were a present from the guys at NTD. We decided he can use one after he's done with each chemo treatment. He got Donkey Kong Country for the Gameboy. I think he had more fun shopping than getting the actual game.

After that, we went to the movies to see Spy Kids 3-D. We sat near the front, because we are trying to stay away from crowds because of Nicholas' immune system status. That turned out to be a mistake, I think, because the 3-D effect works better if you sit further back. The movie gave me a headache, and we both took off our glasses before it was done. Still, the movie was cool. A couple action sequences really stood out, one with giant robots battling in an arena and the other a futuristic race with really imaginative vehicles. I had wanted to see this movie because one of the computer graphics artists from NTD left Nintendo last year to go work on the film. I even saw Cid Newman's name in the credits. I've never known anyone in a movie's credits before.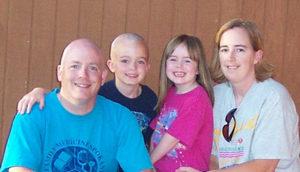 We got home to find a picture emailed from my friend Janelle. I went to high school with Janelle, and I see her and her husband Dave and their kids a few times every year. They live in Spokane, a few blocks from my Dad's house, and we usually see them at one of my Dad's parties. They have been really supportive, and they wanted to do something, so Dave and his son Jacob got the haircut of solidarity. Nicholas was pretty excited to see the picture. I keep getting surprised by the love and support Nicholas continues to get. It's really amazing.
Today, Nicholas got to go to the park. It's been in the 90's here in Seattle, which is quite a heat wave for us. Stephanie found out what time they clean out the Greenlake wading pool, and took Nicholas down right after it was refilled. He got to splash around for a while, and he had a great time. In the evening, we returned to Greenlake to visit with Stephanie's cousin Susanna and her family, who are in town from Aspen, Colorado. Two of their children have cystic fibrosis, and Nicholas and Sophia exchanged stories about being in the hospital. Then all the kids played on the playground toys and had a blast.
The day ended with Nicholas getting the first of his GCSF shots. He has been dreading it for the last few days. Last night he woke up crying and he told me he was worried about the poke, as we euphemistically call injections. We got through it, but it was pretty traumatic. This is a problem, as he has to get a shot every day until his blood counts get back to normal. I hope he will get used to it quick.
---
Monday, July 28th
Nicholas came home today! He will be home until sickness or fever sends him back. That is expected to happen in about a week, when his blood counts start dropping and his immune system gets depressed. There is a slim chance it might not happen, and he won't be readdmitted until his next chemo session in about 3 weeks, but the doctor says that's pretty rare.

For the last two nights, Nicholas has gotten very nauseous in the evening. This lasted for a couple hours both nights. He threw up much of what he ate. Then they gave him some Benadryll to make his stomache feel better. Then he slept lightly, waking up occasionally to say how much he hurt. Then we woke him up to give him his prednisone, which he promptly threw up. Then we let him sleep for another hour, and woke him up to make him take the prednisone again. That happened two nights in a row. I layed on his bed next to him while he tossed and turned and whined about the pain. It was very sad for me, and rough for him. I guess it's hardest for me because I know there will be a lot more stuff like this over the next 5 months. The doctors can't say for sure when he will feel bad and what it will be like, because each patient reacts differently. But they gave a huge laundry list of side effects, so my mind is full of "what might be."

I will have to give Nicholas daily shots of medicine starting on Wednesday. This will continue until his blood counts get to the right place. The needle is small, the same kind that diabetics use to administer insulin. Still, Nicholas is terrified of the needles. Stephanie and I had to get training from the nurse on how to do it, and we had to each demonstrate it one time. The nurse volunteered to be the test subject, but we decided to do it to each other, so we would know what it felt like. I am really glad we did, because it doesn't really hurt at all. I didn't realize how easy it would be. Nicholas is dreading the procedure, but I think after going through it one or two times, he should realize it's not so bad.

Stephanie's friend Kirsten mailed Nicholas a cool present. I should say, Kirsten's husband Michael went through chemotherapy last year for Non-Hodgkin's Lymphoma, so she has been a great source of information and support for us. She also has great ideas on fun stuff to do in the hospital. She sent Nicholas an i-Zone camera. It is a polaroid camera, where the film develops by itself right after you take the picture, and the pictures are little stickers. Nicholas has been taking lots of pictures at the hospital. He took a bunch of shots of his stuffed turtle, and one of his favorite nurse. He's been sticking them on his notebook and is having lots of fun with it.

Life in the pediatric cancer ward is both inspiring and depressing. We were in a 4-bed room, and had some neighbors who were going through chemo, too. One was a boy who is a year-and-a-half old. He is bald from the chemo. Our other roommate is a two-and-a-half year-old boy, who looks pretty sick. He had two bloody noses while we were there, and since the chemo kills off the cells that make blood clot, the bleeding wouldn't stop. Both times it took several hours to get things under control. That boy's parents can't spend that much time in the hospital, so he is often alone. The nurses do what they can, but they aren't really there for that sort of thing. They have their hands full monitoring all their patients and making sure everyone is getting the right medicine at the right times. There are volunteers who come by to play with the kids, and they are great, but there aren't that many of them. I think we are really blessed that we have such great employers and such great friends and family that we can be there for Nicholas through this all.

Stephanie's sister Rachel and sister-in-law Traci came over on Saturday and cleaned our house! It was so great. They had the carpets cleaned and moved some furniture around and made cookies. I was only home for a couple hours this weekend when I wasn't sleeping, so getting stuff taken care of is difficult. Cleaning and grocery shopping and all that are getting neglected, but I'm definitley not making that my priority. It is really nice to have some of that taken care of so we can focus on getting Nicholas well.
---
Saturday, July 26th
One of the kids left our room yesterday, and we moved Nick's bed into the vacant spot, away from the door. That helped with the sleeping a lot. I didn't wake up every time a nurse walked in the room like Stephanie did the night before. Also, with one less patient, the room was just generally quieter.

A big gift basket arrived from the great folks at Stephanie's work, Regence Blue Shield. Thanks gang. Nick said "getting the all the stuff" is the best thing about being in the hospital. There were coloring books, games, Gameboy games and my favorite, some chocolate chip cookies. Nick spent much of the day playing two of the games, bingo and go fish. Nick had lots of visitors. We ended up with a crew of 6 in the play room playing bingo, and some of the other patients joined us. It was fun.

One of the drugs made Nicholas pretty naseous, and he threw up his lunch. He isn't eating much, so that was too bad that he threw up the only meal he actually ate. Later, after he took his "icky medicine" (prednisone), he threw up again. The poor kid ended up having to take it twice, the second time after they gave him some medicine to quiet his stomach.

We broke the news to Nicholas that he will have to start taking some medicine by shot. The GCSF treatment helps his blood counts get back up faster, but it is given by a shot in the thigh. It can't go in through his central line. He will get one shot a day for a while. He is not happy about it, nor am I. He gets it 48 hours after the chemo ends, so he'll be getting it at home and Daddy will be administering it. He was pretty scared when I told him, but we talked about it for a while. He was relieved that he wouldn't be getting it for a couple of days. We also talked about how Mommy and Daddy had worked with him on taking the icky medicine and changing his bandage (from his lump surgery), and we made those things not so bad, and we would do the same with this shot. That made him feel much better. I'm very glad that he trusts us so much.

The prednisone, which is a steroid, is supposed to cause mood swings and outbursts, and I saw a little of that yesterday. Nicholas was playing a video game on the play room Nintendo, and he got a little frustrated. He started yelling that he hated the game and wanted to quit. It was really out of the blue, his own little 5-year old 'roid rage. Good preparation for a career in major league baseball.
---
Thursday, July 24th
Nicholas is back in the hospital for his second round of chemo. Nick is sharing a room with 4 other kids. The cancer ward is very crowded right now. Since the kids can't play outside or anything, they have some bicycles in the cancer ward on which the kids can ride. Nick took a lap around the ward today, with me pushing his IV tree behind him. It was kinda cute.
We got some news today that isn't as great as it sounds, but it is still good. They did another CT scan today, and the tumor is greatly reduced in size. This is what they expected. They compared the CT scan to one from last week and needed to see a 25% reduction in the tumor. This shows that Nicholas is responding to the treatment. A small percentage of kids don't respond to this kind of treatment, and if they don't see a dramatic reduction, then they know they need to try something different. This doesn't mean that his cancer is almost gone or anything, but it's a positive sign that Nicholas is responding.
---
Wednesday, July 23rd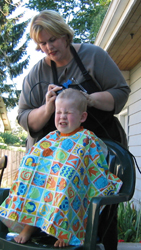 Nicholas' hair will be falling out from the chemo in the next week or two, so he decided to have his head shaved first. I offered to do the same to show my support. Nicholas asked Stephanie's friend Tina to cut his hair, and he asked me to go first to see if it would hurt. Nick also asked his uncle Ben to get his hair cut, too. So Tina came over tonight and shaved our 3 heads.
Nicholas goes into the hospital tomorrow for his second round of chemo. The first one was just a baby round. This will be the real deal. He will be in the hospital for 5-7 days, and it should be another 5-7 days before the side effects get really bad. Nicholas doesn't want to go to the hospital, but knows he has to in order to get better. He is very brave.
---
Monday, July 21st
Madeline went back to daycare. Nicholas stayed home. While he is healthy now, the doctors don't want him playing on the playground where he can damage his central line, or pick up a cold. Stephanie talked to the doctors about some medication for Nick's leg cramps. They said the cramps don't sound like a reaction to the Vincristine, but maybe are just tense muscles from the bone marrow aspirations. They recommended heat as a treatment, and also lots of activity to stretch out his muscles and get them back to normal. Steph walked around Greenlake with her sister and her sister's friend, and tried to get Nick to walk as much as possible. He didn't want to at first, and complained for a while, but after a short time, he was running and laughing and having no pain.
Later, Nick's cousin Benjamin came over and the two ran around the house having fun. It was really great to have him acting like a normal kid and having fun. Nick's friend from school, Daniel, came over at dinner time and his mom brought teriyaki chicken (thanks Becky!). The kids ran around and played and had a blast. Nick hasn't been really sick or debilitated, but he has been pretty sad and scared. I'm glad he could forget his fears for a day and have fun.
---
Sunday, July 20th
The closest thing to a normal day in a while. My sister Maria visited with Nicholas' cousins Zolman and Jack. Jack had a cold and didn't stay long. The doctors recommend against that, even though it should be another week or two before Nicholas' immune system gets depressed. Z stayed and played. The two played video games, and then we went to the park. Nicholas' leg cramps were back, stronger today than they've ever been. Pretty much all day before 2:00 or 3:00 in the afternoon, he was in pain. We gave him some tylenol, but tomorrow we hope to get some stronger meds from the hospital for this.
Zolman and Madeline walked to the park, and Uncle Paul and I pulled Nick in the wagon. When we got to the park, Nicholas really wanted to play, and tried to get out and walk around. He hobbled up the stairs of the slide and went down it once, but it hurt too much and he got back in the wagon. It was okay, as he was able to direct the play of his cousin and sister from this command center. We have a fairly elaborate variation of tag that we play at the park, and he quickly explained it to Zolman, then directed Z and Maddy in his overall strategy. It was very cute. His legs got to be really bad after a half hour and we went home to put hot pads on them and I gave him a massage.
Later in the day, he was fine, and was walking with no pain. Still, it will be nice to have some stronger meds for that. Apart from the leg cramps and the twice-a-day icky medicine, everything was normal. He played, colored, watched TV, hunted for bugs and went to the park. You can't beat that.
---
Saturday, July 19th
Nick woke up at home, and that was a very good thing for both him and his mom and dad. The day went well, with lots of stuff going back to normal. He still had to do a couple of things he didn't like. Taking the icky medicine is hard. One thing that has been a big problem is changing the bandage over his surgery wound, where they took out his lump. He hates having the tape pulled off. This has to be done every day, and it freaks him out. I know pulling tape off skin isn't that painful, but Nicholas was in the hospital for a week, and every time someone new came in his room, they wanted to do something that was at least uncomfortable. He's very afraid of things hurting, and especially in places where he's had a lot of pain already. He's pretty sensitive about his lump area. So Stephanie finally got fed up with having to peel Nick off the ceiling every day when his bandage is changed. Yesterday, when we changed the bandage, we put on the new on with some netting. It's kind of like an ace bandage. It wraps around his whole chest and doesn't stick at all. It made the process a lot more pleasant, and it's one less thing that Nicholas has to dread.
One bad thing is that Nicholas continues to have leg cramps. They come and go throughout the day. He can play and seem like everything is normal and fine for a couple hours, then he suddenly can't walk and has to sit on the couch with heating pads on his legs. It scares me to see this happen, because I know the side effects are only going to get worse.
We told Nicholas that his hair will fall out. He's worried that it will hurt. We agreed that Daddy and Nicholas will get our hair cut off together. Daddy will go first, in case it does hurt. He is thinking about asking his uncles if they will shave their heads too.
---
Friday, July 18th
Nicholas was scheduled for a gallium scan in the afternoon, to be given under sedation. Sandy, who is a scan tech or a doctor, I'm not sure which, remembered how good Nick did with the bone scan, and called us up in the morning to see if Nicholas will hold still enough to get the gallium scan done without sedation. Nicholas got his chest scanned while watching a Pokemon video. He had to get his head scanned, which entailed having this big square thing sit a few inches above his nose while he held very still for 20 minutes. He couldn't see the TV to watch the video, so we weren't sure how if this would work. But Nicholas was a trooper, and he lay there with his head in a special pillow that holds it still, and Lark told him a couple stories. We were done by 10:30. Nicholas didn't need to be sedated for an afternoon procedure and could have some breakfast! Thanks Sandy, you rock!
In the afternoon, Lark and Stephanie got lessons on diet, administering medicine, and the care of catheter tubes. Then we can go home! Yea!
Nicholas started experiencing pretty strong leg cramps. This was a side effect of one of the chemo meds. It took us a while to figure out what was happening. We couldn't tell if the pain was from the bone marrow aspiration, or what. Part of the problem is there is a lot of pain from the bone marrow, and these cramps seem to make that pain worse. By the end of the day we figured out that pain medication, hot pads and massage seemed to take care of the cramps, but Nick is having a lot of trouble getting around. Walking is very difficult.
Nicholas also found out that being at home doesn't mean everything is fine, as he has to take the "icky medicine," prednisone, and get the dressing from his lump surgery changed. He hates doing both of those things.
---
Thursday, July 17th
So far all the tests are negative. No cancer has been found in Nick's blood, bones, organs, or spinal fluid. This was great news. The cancer appears to be only in his lump. It is still considered stage 2, as the lump is apparently pretty good sized, as far as these types of tumors go.
Nicholas started his chemo today. First, he was put to sleep (no needles or masks! yea Hickman catheter!) and given chemo medicine through another spinal tap. Spinal fluid and blood don't mix, so chemo must be applied both places. Since there was no sign of cancer found in his spinal fluid, Nicholas will get taps only about once a month. In the afternoon, Nick was hooked up to an IV. Hydration and chemo meds were pumped in for the next 24hours. Nick started taking prednisone, a vile tasting steroid. Nicholas was freaking out whenever hospital staff come in the room. It usually means something is coming that will hurt. Nicholas spent his second night in the hospital, and Lark stayed with him.
---
Wednesday, July 16th
Nicholas' last day of daycare. He went in the morning and joined his class for a "bug hike" in the woods. The high point of the hike was catching bugs from underneath a rotting log. He couldn't join in the snack with the other kids as he was scheduled for surgery later in the afternoon, and can't have any food. Madeline was picked up from daycare by Grandma Margaret and Grandpa Frosty and headed to Vashon Island for a few days of dog-sitting.
Nicholas went to the hospital for surgery. He had a Hickman catheter put in, a bone marrow aspiration, and a spinal tap. The Hickman catheter is a central line that goes into his chest. Blood samples can be drawn out and medicine put in through it, so this will greatly reduce the number of "pokes" Niccholas will have to endure.
The kids from daycare sent a big sign with all their handprints, saying how they miss him. Nicholas spent the night in the hospital, and Stephanie stayed with him.
---
Tuesday, July 15th
A long day at the hospital. Nicholas had a CT scan and a bone scan. Nicholas is getting pretty freaked out by the hospital experience. We were expecting it to be over on Friday, and we haven't really explained what's going on, because we don't know how and we are unclear on a lot ourselves. We get Nicholas his own Gameboy, as it really helps distract him when he is nervous and waiting for a procedure.
We spend an hour with Dr. Matthews and Dr. Garcia getting educated on lymphoma and chemotherapy. We learn that Nick's chemo will probably last for about 5 months, depending on the results of all his tests. We also learn that Nicholas cannot attend daycare and will not be starting Kindergarten in the fall. Afterwards, we went to Nicholas' cousin's birthday party. Probably the last normal kid activity Nicholas will hvae for a while.
---
Monday, July 14th
We arrived at Children's Hospital in the afternoon. We saw Dr. Sawin in the hall. He had to run to the emergency room for surgery, but told us we can talk to Dr. Matthews in Oncology,with whom he had consulted on Nick's case.
We waited in the Oncology waiting room for about an hour, watching lots of bald kids come and go. Dr. Jake Garcia finally gave us a diagnosis of Anaplastic Large-Cell Lymphoma. Dr. Garcia tried to examine Nick's lump (or what is left of it after surgery) but Nick was very scared and we had a lot of trouble. Nick had X-Rays taken and blood tests. The blood tests terrified him. He does not like needles.
The doctors couldn't give us a lot of information with Nicholas in the room, as he is very perceptive and picks up things easily. We left knowing that chemotherapy for this type of cancer is extremely aggresive in children this age but understanding very little about what this really meant for us. One thing they told us was to wipe our calendars clean for the next 4-8 months. We spent most of Monday night trying to absorb the shock and calling immediate family to let them know.
---
Hospital Info
When in the hospital, Nicholas is at Children's Hospital in the Seattle Cancer Care Alliance ward. This is on the 3rd floor right next to the Train elevators. Check the latest update of this page, or give us a call, to see if we are at home or in the hospital.
You can call the ward at (206) 987-2032 and ask for Nicholas' room to get in touch with us when we are there. Phone calls have to go to the ward, as cell phones are not allowed there.
Visiting hours are 8:00am to 8:30pm
If you want to visit, make sure you don't have a cold, even a minor one. Most kids on the ward have severely depressed immune systems, and catching a cold could be deadly. They won't let you in if you have a runny nose or scratchy throat. Also, no flowers or latex baloons are allowed on the ward.
Also, you can email us at mhawk @ gowebway.com If you phone us at home and we are not in, leave a message. We usually check them every day, even when Nicholas is in the hospital.