Here is the latest news on Nicholas' health. On Monday, July 14th, Nicholas was diagnosed with Stage 2 anaplastic large-cell lymphoma, a cancer of the lymphatic system.
I have archived some of the blog, so those of us on dial-up don't have to wait for long load times. Catch the greatest hits here:
Nicholas' Cancer Treatment Blog Archive
January

S
M
T
W
Th
F
Sa
1
2
3
4
5
6
7
8
9
10
11
12
13
14
15
16
17
18
19
20
21
22
23
24
25
26
27
28
29
30
31

December

S
M
T
W
Th
F
Sa
1
2
3
4
5
6
7
8
9
10
11
12
13
14
15
16
17
18
19
20
21
22
23
24
25
26
27
28
29
30
31

November

S
M
T
W
Th
F
Sa
1
2
3
4
5
6
7
8
9
10
11
12
13
14
15
16
17
18
19
20
21
22
23
24
25
26
27
28
29

October

S
M
T
W
Th
F
Sa
1
2
3
4
5
6
7
8
9
10
11
12
13
14
15
16
17
18
19
20
21
22
23
24
25
26
27
28
29
30
31

September

S
M
T
W
Th
F
Sa
1
2
3
4
5
6
7
8
9
10
11
12
13
14
15
16
17
18
19
20
21
22
23
24
25
26
27
28
29
30
---
Tuesday, September 30th
Wow, it's been a week since we've updated this. That's not because we're lazy, it's just because not much is going on. Well, maybe we're a little lazy. Nicholas has been home all week, feeling fine. He's been playing lots of video games, doing school work and watching The Price is Right. Not very thrilling. While Nicholas was in the hospital, the hospital teacher came around. She held a class in the cancer ward with a Nick and a couple other 6-year-olds. She gave Nicholas some homework and directed us to an educational website, where Nicholas can do reading lessons. He's pretty smart, picking up addition and some phonics pretty quickly. He actually likes doing the homeowork, especially the internet stuff. When he goes back into the hospital to check blood levels, he can meet with the teacher again, too.

On Saturday, we went to see Nicholas' soccer team play. Nicholas had both a good and a bad time. He hadn't seen some of the kids since diagnosis, and was a little intimidated by the large group. He warmed up after a while and sat on the bench with the boys, talking and laughing. Watching the kids play was hilarious. They are very cute. Some of them have a hard time staying focused on the game. After a while, Nicholas got a little sad. He told me he wished he could play, and that, while he knew he could play next year, that was a long way off. He started to get upset and finally told me he wanted to go home right now. So we left. I felt pretty bad for Nick. This was the first time I think he really realized what he's missing out on because of his cancer.

Nicholas has had a little bit of a cold for the last few days. He has a runny nose and a little cough. His blood counts are dropping, but he is almost over his cold now. It is kind of a race between getting over the cold or his blood counts dropping too low. If his counts bottom out before he gets better, his body will no longer be able to fight off the cold. He will get a fever and have to go back into the hospital for IV antibiotics. We are keeping our fingers crossed.

We got some sad news this weekend. Stephanie's friend Kirsten, whose husband went through lymphoma treatment last year, has been an incredible source of strength and help to us throughout Nicholas' ordeal. As someone who has been there, she has been an invalueable shoulder to lean on. Her husband Michael went into the hospital this weekend with some liver problems, and they found a lymphoma tumor. Our hearts go out to Kirsten and Michael, and we pray that he gets through the upcoming chemo treatments and makes a full recovery.

Nicholas' next round of chemo is scheduled for October 8th, which is next Wednesday. Things seem to be proceeding well, and there have been no delays. We will probably be done with all chemo hospital stays right after Halloween, and all hospital stays by mid-November. This is a about a month faster than we thought it would be. It is exciting to see the light at the end of the tunnel.
---
Tuesday, September 23rd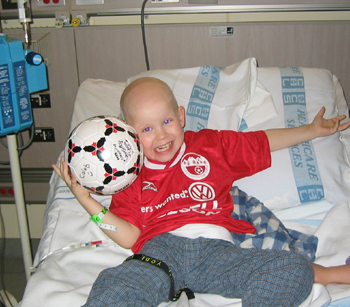 Sorry it's been so long since the last update. When Nicholas is in the hospital, we get pretty busy. Stephanie and I hardly see each other when he's getting his chemo. Madeline has had a cold, so she couldn't go to the hospital. One of us was home with her and one of us was at the hospital with Nicholas, most of the time.

This chemo round things went well. Nicholas had a bit of the fever at times, which one of the drugs commonly cause. He threw up one evening, and didn't have much of an appetite for most of the time. That's the worst of it.

There were some good times, too. Nicholas was supposed to play soccer on a team with some friends with daycare. We signed him up before he was diagnosed. A couple of his friends on the team came into the hospital and gave Nicholas his team jersey. They gave him a practice t-shirt and a game ball signed by everyone on the team. He was pretty excited, and talked about playing on the team next year. It was a fun time.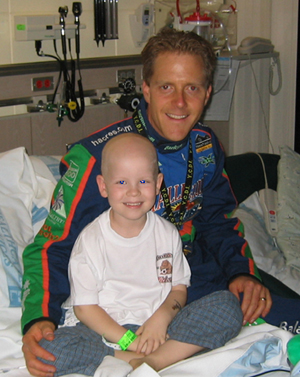 Tonight, a NASCAR driver came by to see Nicholas. Jerrod Sessler races in the Northwest Regional NASCAR league. He survived cancer, and now he has a foundation for helping kids, the Hope4Youth foundation. He visits the cancer ward on occaision. Nicholas wasn't too impressed. NASCAR isn't that big in the Seattle area. But Nicholas did like Jerrod's cool racing suit, and he liked talking about driving at 150 miles an hour. Jerrod gave Nicholas a necklace with the letters Y.C.D.I., which he told Nicholas stand for "You Can Do It" and and he said some nice things about accomplishing whatever you set your mind to. After Jerrod left, Nicholas set his mind to kicking my butt at Mario Tennis on the Nintendo. He kept telling me how his necklace was helping him beat me.
Nicholas is coming home in the morning. He's really looking forward to being unhooked from the IV. This chemo round required him to have 4 consecutive 24 hour infusions, which means he was not unhooked from the IV for 4 days. The last couple rounds, he would sometimes be able to be unhooked for a half hour or so between drugs. He could go for a walk around the hospital for a while and go out on the playground they have there. This time, he didn't leave the cancer ward for 4 days, and really didn't get out of his room that much. So it will be quite nice to be home and be unhooked. We are looking forward to it.
---
Saturday, September 19th

The walk went great. We had a lot of people show up, about 20 people walked with our group, and Nick's Squad raised about two thousand dollars. There were a couple thousand people walking around Greenlake. We all had these baloons with little flashlights inside. When it got dark, it looked really cool to see the long line of lighted baloons circling the lake. It made us feel pretty good to see so much support, so many people doing something to fight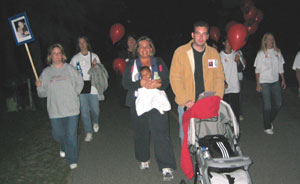 Lymphoma.

Thanks to everyone who spent their Saturday night at Greenlake to show their love and support. It means a lot to us. Special thanks to Jeni Manion, who was our team captain and did much of the organizing. She walked with her little baby Hayden (who is incredibly cute).

Seeing so many people who have had loved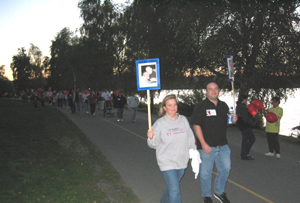 ones go through this, or who are going through this now, is really comforting in a way. You know you are not alone, not the only one having to deal with it. Sometimes I feel like I've become an expert in something no one wants to know about. There aren't a lot of people who know about how methatrexate affects blood counts, or why chemo needs to be given intrathecally as well as intravenously. I didn't even know what some of those words were, three months ago. A lot of the people walking last night know about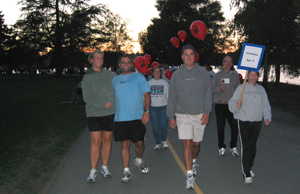 that stuff all too well, and that's some sort of comfort, to know we are not the only ones going through this. It's like we said to Kirsten, it sucks that she had to go though this last year, but if she hadn't gone through it then, she wouldn't be there for us now, to tell us how she felt and how she dealt with it, and to really understand how we feel like no one who hasn't been through it can, it would be a lot harder for us.
Anyways, thanks to all who came out and to all who donated money. Your love and support is much appreciated, and it does make a difference. Thanks.
---
Thursday, September 18th
Here's a reminder that Saturday is the Light the Night walk in Seattle. Stephanie and I and the rest of Nick's Squad will be meeting at 6:00 at theLight the Night tents near the boathouse at Greenlake. We hope to see you there if you can make it. Nick's Squad has raised a lot of money for the Leukemia/Lymphoma Society, much of it coming from a bake sale held at Regence. Jeni Manion has been doing a great time as team captain. Anyways, we hope to see you all at Greenlake on Saturday.
---
Wednesday, September 17th
Nicholas is back in the hospital. Round 3 of chemo started yesterday. This round is a little longer and a little milder than the last. No Nupagen shots or prednisone pills - yeah! We were really prepared for this round, with some experience under our belts. Nicholas got to go out to his favorite restaurants for the couple days leading up to the hospitalization. He also got to go to the park and other fun things, most notably the trip to Hood Canal last weekend. We packed up a few bags, rented some fun videos for him to watch, and headed out to Children's Hospital.

They say that this round may cause more noticable side effects. In addition to nauseau, he might get a fever and feel pretty run down. He has been handling the medicine well up till now, with only occaisional nauseau when the medicine is going in. We're hoping he still does well with that.

On Tuesday, Stephanie and I and my brother and sister-in-law Martin and Cindy and Stephanie's sister-in-law Traci all went to the Jimmy Buffett concert. It is hard to believe, but we bought the tickets for the show before Nicholas was diagnosed. Nick's illness has so dominated my life for these past months that everything before that seems like years ago. Anyways, the concert was at the White River Ampitheater, south of Auburn. That venue has to work out some bugs with their parking. We waited in line at the SuperMall for an hour for the shuttle bus, because we heard that parking was an issue. But as the concert start neared, the shuttle buses disappeared. Finally, we jumped out of line and drove on to the concert in our van. We missed the first half hour of the show, but we would've missed more if we had stayed waiting in that line. It worked out okay, but the whole process ruined my buzz management, and I ended up pretty sober for the show.

The concert was great fun, once we got there. Jimmy Buffett is a lot of fun. For about half the songs, the audience knows and sings every word. It's like a sing-a-long with 40,000 people, which you gon't get to do very often. The crowd was a crazy bunch. Jimmy Buffett fans are normal people most of the time, but they use his shows as one of their few chances to cut loose. There were tons of people in hula skirts with parrots or sharks on their hats and other goofy stuff. It was cold, and it rained a bit, but not bad. All in all, a great time.
---
Sunday, September 14th
We had a great weekend. Stephanie went camping with friends from work, got away from it all and had fun. Nicholas and Madeline and I went to Hood Canal. It was the furthest away from home Nicholas has been since the diagnosis. We did his last infusion of antibiotics on Saturday morning. He is not on any at home meds right now until his next chemo round. Most of his counts are back to normal. His hematocrit count is still low, meaning his red blood cells are low. They warned us that he might get tired easily, but it didn't seem to effect him a lot this weekend. So, seeing as how he was low-maintainance, low-risk, and he's due back in the hospital for a 7 day chemo treatment, I figured this was the best time for Nicholas to get away.

After his last antibiotic infusion Saturday morning, we loaded up the van and headed for the ferry. We got out to the canal around 1:00 in the afternoon and hit the beach. The kids looked for tiny crabs under rocks and we played pirate as well. We went swimming when the tide came in. The water was really cold. To go swimming, Nicholas needs to wear this sticker/patch thing over his lines, and it worked fine. Grandma Margaret and Grandpa Frosty showed up around 7:00, and they brought their dog. On Sunday, Grandpa Frosty took the kids for a boat ride. Then they spent about 2 hours beachcombing and throwing rocks in the water. And we got in a couple ferry rides too. Most importantly, the Seahawks crushed the Arizona Cardinals.

When we got home tonight, Nicholas had to change the dressing on his line, which for some reason today was a lot more difficult than any previous time. Nicholas cried and yelled and carried on for a half an hour while Stephanie changed it. It was almost enough to ruin my good mood, but then Stephanie and I watched Amelie on DVD and I cheered right up. That movie is great.

Nicholas goes in on Thursday for his next chemo round. He will be in the hospital for 7 days. That's longer than the last two rounds, but this round will be somewhat more mild, medication-wise. He won't have to take the truly nasty medicines. He won't have to take any bad-tasting prednisone, or need any Nuepogen shots. Still, it sucks to be in the hospital, and we aren't looking forward to it. It was great to get away this weekend while we had the chance.
---
Thursday, September 11th
Several of you out there have commented that I've been suspiciously absent from the web update. The honest truth is that last week was brutally hard for me. Those of you who know me well, know that I am a control freak to the core. When Nicholas was diagnosed we had plans each weekend well into September. We were told to wipe our calendars clean. And we did. I learned that I would not have the luxury of planning my life weeks in advance. What I did not expect - and what I can't come to terms with - is not being able to plan even a day in advance.

As Lark put it, we were busy last week congratulating ourselves on keeping Nicholas out of the hospital and we get a call from Childrens that we need to come right in - and the big bonus - to pack a bag because we'll be staying a few days. Nicholas takes this all in stride, despite the fact that he's feeling quite well. I, on the other hand, freak out. Not literally, of course, but inside I was incredibly angry and frustrated. I'm thinking - we have plans for Madeline's birthday dinner and I wanted so badly for us to be together at home. Something normal! Something that we routinely do in our family, celebrate birthdays with a family dinner. I was planning to work on Thursday. I needed to finish my shopping for Maddie's birthday. Lark and I are suddenly forced to choose which one of us will be with Madeline on her birthday. Of course, Madeline also takes this all in stride.

The other big thing weighing on me last week was that Nicholas was supposed to start Kindergarten on the 2nd. Never in my wildest dreams did I imagine not being able to send him because he has cancer. I have memories of the first day of school when I was a kid. Mom always lined us up outside in our uniforms with our lunch boxes clutched tightly in our hands and took our picture. From very early in Nicholas' life, I pictured the same ritual taking place. And it's hard. Hard to let go of those kinds of dreams.

The thing is, I realize that I'm being totally ridiculous. I realized it then and I realize it now. The weakness is mine. I need to let go and stop planning on anything, at least for now. Nicholas' diagnosis should have taught me that. But it is my weakness. I am a planner. I like control. And the truth is that I can't control what is going to happen with Nicholas, so I want to control other aspects of my life.

I'm not sure what the moral of the story is. I wish I could wrap this up with some profound statement about what I've learned - but I'm at a loss. This is hard. On all of us. In different ways. Nicholas will start school one day - hopefully soon. I will dig out his uniform and make him pose for a picture. Until then I'm trying to learn to take it one day at a time.

One last note, if you haven't registered for the LIGHT THE NIGHT walk and would like to walk with us, please hit the website (look for the team named "Nick's Squad"). More importantly, send donations if you can. Hit up your friends, relatives, co-workers, neighbors. Re-live your Catholic school days and post yourself outside a grocery store and beg. Do whatever it takes. Nicholas and all the others like him need your help. Here is our address:
13230 35th Ave NE, Seattle, WA 98125.
Make your checks payable to the Leukemia and Lymphoma Society. I will turn in any donations that are sent to me with our teams funds. Hats off to the gang at Regence who raised $730 by holding a bake sale. There is another bake sale in the Burlington office on Friday.

As always, I end with being thankful for Nicholas and the joy he brings to our lives. It is my greatest joy to spend my days with him - no matter the circumstances.
---
Sunday, September 7th
Here are some more baldies. My brother-in-law Paul and Nicholas' two cousins, Zolman and Jack, with me and Nicholas. We look like a skin-head gang.

This weekend was great. My sister Maria, her husband Paul and their kids, Selene, Zolman and Jack came over for the weekend from Spokane. The kids had a great time playing together. Maria and Paul went above and beyond, spending most of Saturday cleaning our house and doing yard work. Our house looks great - after three days in the hospital with Nicholas things were a mess around the house. Maria and Paul are great about getting done whatever needs to be done without having to ask where, what and how. They just do. And they do an amazing job. Nicholas had lots of fun with his cousins, playing video games, of course, but also riding bikes, wrestling, and running around. With his blood counts on the rise he had a lot of energy and was in the mood for some physical exertion.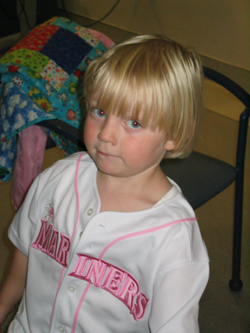 Madeline had a birthday party at the park near our house on Saturday. It was the perfect party. Stephanie did it very low key, with pizza, salad, watermelon and cake. Kirsten sent us some home-made Dora backpack party bags for the occaision. That woman is amazing, and a great friend. When she gets into Martha Stewart mode, she doesn't kid around. Madeline got a bike, and she was so excited, she jumped on it and rode off for a lap around the park's sidewalk. 8 little kids ran along behind her. Picture a victory lap in pre-school proportions. It was precious.
I got to go to the Seahawks game today. The Hawks won big over the New Orleans Saints. I'm still not used to all these NFC match-ups. It's only the second year that they've been in this conference. Stephanie's brother Marty got a 4 game package, and invited me along. Last weekend we went to the Mariners game, this weekend it was football. It's really nice to get out and away from everything once in a while. It was a little trouble scheduling child care, as Madeline was on her way to a friend's birthday party, and Nicholas needed Stephanie or me at home to administer his IV anti-biotics. Some parents of Madeline's daycare friends, Laurie and Jim Hopkins, took Madeline to the party. Madeline was thrilled to be going with the Hopkins and bragged of hugging Chuck E. Cheese himself!
All in all, it was a fun and relaxing weekend. I'm in a much better mood than I was on Friday night.
---
Friday, September 5th

Here is Maddie's happening birthday party. After a delicious dinner at the Spaghetti Factory, we went back to the hospital for cake and ice cream. A good time was had by all, and we endeared ourselves with the nursing staff by giving them the leftover cake.

Nicholas and Madeline rode bicycles around the floor, which they let you do. Stephanie ran along side Nicholas pushing his IV tree. Everyone was laughing a lot. There is something about a party in the cancer ward that is really sweet and touching and at the same time sad and depressing.
Nicholas came home this afternoon. He still has to take IV antibiotics. We got the home version of the IV pump, and get to administer the medicine 3 times a day. It takes an hour to infuse, and Nicholas has to basically sit in one spot the whole time. This will happen for the next 8 days. Woo hoo. At first, I didn't think that there was much to the medical regimen. But day after day of changing routines and keeping track of this and that and what he took this morning and what he needs with dinner, and fighting with him to change bandages or get the poke or whatever, and who's going to pick up Madeline because Nick has to go to the hospital, and worrying that his temperature is getting too high, it really wears you out. I am at a low point, energy-wise.
Madeline's next party is tomorrow. Last night was dinner with grandparents and aunts and uncles, tomorrow is with friends and cousins. It will be at the park around the corner from our house. Nicholas should be able to join the festivities. This is actually Madeline's third party, as she had one last week when she was in Spokane, with her Spokane grandparents and cousins. That girl's got it good.
I'm just thinking about how my sister Maria organized the party in Spokane, and actually organized Madeline's whole Spokane stay. She deserves some special thanks. That just gets me thinking about how many people are being great with help and support. If I thanked everyone who has been there for us, this website would be just a big list of names, but we are very grateful for all the support we get.
I am really tired right now, but I wanted to let everyone know that Nicholas is home again. His next round of chemo is scheduled for September 17th. I'll try to do a better update later, when I'm not so beat and can be a bit more entertaining, or at least not so rambling and confused.
---
Thursday, September 4th
Well we were breaking our arms patting ourselves on the back for keeping Nicholas out of the hospital this round, when it happened. Because he had a low-grade fever for a couple days, the last time they checked Nicholas' counts, they also did a culture to check for any kind of infection. Sure enough, they found signs of infection. So he went back into the hospital last night. He will remain there until Friday or Saturday. He feels fine. His temperature is normal, with no signs of even a low-grade fever. His blood counts are climbing and should be back to normal in the next couple days. But the doctors like to play it safe, and I guess that's good. So Nicholas is in the hospital, being monitored and given anti-biotics for a couple days. Whenever things start to get too normal, reality seems to intrude. That's the wonderful world of cancer.

Today is Madeline's birthday, and we were very excited at the prospect that we would be able to spend it together as a family. It is quite a blow that we cannot. Nicholas should be out of the hospital in time for Madeline's birthday party on Saturday, but we had a family dinner planned for tonight with Aunts and Uncles and Grandparents, and Nick will miss that. That's good for Maddie, because, without an immuno-suppressed kid coming, we can go out to a restaurant. We will be dining at the Old Spaghetti Factory, where the new 4-year-old will be treated to her favorite meal, noodles with no sauce. Nobody can make that dish like the Old Spaghetti Factory. For dessert, we may join Nicholas in his hospital room for some ice cream.

Madeline also went back to daycare yesterday. The new school year at King's Pre-school officially started. She was a little shy and clingy when it came time to drop her off, but she is also happy and excited to play with her school friends, whom she hasn't seen in almost two weeks. Anyways, this update is short because we are very busy. Between Madeline's birthday and spending half of yesterday unexpectedly at the hospital, time is short. We'll update more when we have the chance.
---
Monday, September 1st
Still not in the hospital! Yeah! Nicholas' temperature continues to bounce around between 99.0 and 100.9. Last night it was hovering around 100.8 - 100.9 for an hour, and we were sure we were going to have to go in. But then, we gave him his Nupagen shot, and his temperature started dropping right away. I'm not sure that it was the shot. It was also evening, and Nicholas was slowing down and getting ready for bed. Either way, his temperature is down in the low 99.x range now, so knock on wood. His blood counts should be rising now. If we keep below 101.0 for today, we should be home free.

I got to go to the baseball game yesterday with Stephanie's brother. The Mariner's won 3-0 over the Baltimore Orioles. It was a gorgeous sunny day and a great time at the ball park. Marty's two daughters were supposed to go with us, but they decided they wanted to stay and play with Nicholas. It worked out great, because not only did Nicholas have friends with whom he could play, but Marty and I didn't have to take the kids to the game. It's nice to get them out once in a while, but they just don't have the attention spans for 9 innings. Anyways, a fun time was had by all.

Madeline came home last night. It's great to have her back. We really missed her. Grandpa Marlin drove her over from Spokane. He is staying for a couple days. She had a great time with her cousins, but we are glad she is home. Stephanie has already taken her shopping for new school stuff. Her daycare starts back up on Wednesday.
---
Hospital Info
When in the hospital, Nicholas is at Children's Hospital in the Seattle Cancer Care Alliance ward. This is on the 3rd floor right next to the Train elevators. Check the latest update of this page, or give us a call, to see if we are at home or in the hospital.
You can call the ward at (206) 987-2032 and ask for Nicholas' room to get in touch with us when we are there. Phone calls have to go to the ward, as cell phones are not allowed there.
Visiting hours are 8:00am to 8:30pm
If you want to visit, make sure you don't have a cold, even a minor one. Most kids on the ward have severely depressed immune systems, and catching a cold could be deadly. They won't let you in if you have a runny nose or scratchy throat. Also, no flowers or latex baloons are allowed on the ward.
Also, you can email us at mhawk @ gowebway.com If you phone us at home and we are not in, leave a message. We usually check them every day, even when Nicholas is in the hospital.